After more than three decades of growth in the not-for-profit healthcare sector, Better Place Australia decided to go digital by migrating to a fully online client and case management system. Although moving from a paper-based to cloud environment was a huge leap forward, it came with its own challenges.
Reporting is mission critical for Better Place: their operations and funding rely on it. The Executive Manager Business Systems, Craig Dennis, bears much of the pressure to deliver these reports, and the insights they include. He soon realised that the new cloud-based system was not optimised for their reporting requirements and not a good match for their operational and corporate structure.
Already occupied with his day-to-day tasks, Craig was too busy to keep up with the new reporting demands of the business. Now, missing or inaccurate reports were putting his company's government funding at risk. At the same time, the demand for insights on business processes was rising due to the increase in electronic client data collection.
To top it all off, employees were struggling to grasp the new reporting tools. Craig knew he needed to solve these data quality and reporting issues—and fast.
Moving to the cloud from a corporate culture that was comfortable handling physical documentation was more difficult than anticipated. We were collecting significantly larger volumes of electronic client data, and our staff could not confidently understand the new reporting tools and felt like they were 'flying blind' from an operational management perspective. This was a problem, because as a not-for-profit organisation, we are required to provide our government funders with ever more detailed reports. Failure to do so has the potential to place our funding at risk.
Craig Dennis
Executive Manager Business Systems, Better Place Australia
Unsure how to salvage his company's data pipeline and reporting, Craig turned to Dear Watson Consulting (DWC) for help. DWC ran some experiments and quickly grasped the problem.
We presented the vision for our business intelligence system to DWC along with a preference for using Microsoft 365 technologies. DWC was able to articulate our vision properly and proposed developing our Business Intelligence system using Power BI, with the intent of handing over management and development responsibilities to us in the future.
Craig Dennis
Executive Manager Business Systems, Better Place Australia
Impressed by the accuracy of DWC's initial report, Better Place enlisted them to develop their full data pipeline, starting with the most pressing issues. Over the course of a year, DWC developed an entire suite of reports in Power BI covering every service provided by Better Place.
DWC then trained in-house employees to become self-sufficient in utilising and developing the reports.
The project was successfully completed in less than a year. Better Place was able to become largely self-sufficient, and engaged a business analyst, trained by DWC, who was able to continue with the development workload.
Armed with DWC's custom-built reporting suite, Better Place now produces accurate and detailed reports—in significantly less time. Craig no longer wastes his energy worrying about reporting. He can confidently leave it to the in-house data analyst. When issues do arise, Craig is able to cross-reference reports with data in the system to pinpoint inaccuracies.
Management, who previously questioned the reporting quality, are now focused on data source quality and whether data is being entered correctly. This has led management to emphasise accurate data input, and the company's overall data quality is therefore greatly improved.
Both routine operational reporting and ad-hoc requests from management and the Department of Health can now be fulfilled with ease. The company's government funding is secure, and its executives are benefiting from actionable and interactive insights that they can trust.
Perhaps the most important improvement that our BI system has delivered is trust in our data. Previously, our reporting was treated with doubt because it was laborious to put together and, due to the large number of steps required, not always consistent. Now, the default position taken by our management team is that the data is always a reflection of our client management system—and if the report is providing wrong or doubtful results, data input is the first place to look. This represents an enormous shift in responsibility and is undoubtedly influencing an ongoing improvement in data quality.
Craig Dennis
Executive Manager Business Systems, Better Place Australia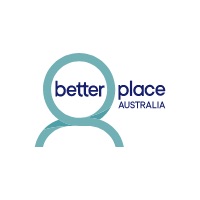 About Better Place Australia
Better Place Australia provides relationship and financial counselling, mediation and dispute resolution services, and psychological support to Victorians in times of struggle. During its 30 years in operation, the not-for-profit organisation has grown from one small office in Melbourne's eastern suburbs to working from six major sites and a further 16 outreach centres.